Study Messages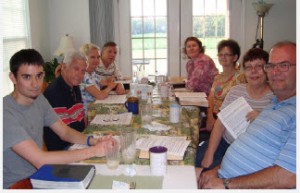 We have been blessed to have many precious and dedicated saints of God visit our Bible Study held regularly on Friday nights.
We have included the outline notes in PDF format from some key studies and know they will be a blessing to you. The Lord continues to amaze us with fresh manna every time. We never know what the topic will be!
Check back regularly for new topics as the Lord provides them to us.
Lord's Supper - A longstanding Israelite tradition was to keep the Passover of the Lord to commemorate when the Lord brought them out of Egypt. We will study what the Lord instructed them concerning it.  Click here to download
Jesus: The Last Conversation Part I - We have compared the Passover-Lord's Supper-Marriage Feast of the Lamb. We discussed the Lord's statements that He would be betrayed, His expectations for His Disciples, and His washing of their feet. This study will further analyze concepts He tried to teach His Disciples during His last night with them.  Click here to download
Jesus' Last Conversation Part II -  Click here to download
Jesus' Last Conversation Part III: In The Garden -  Click here to download
What Jesus Said About Violence - It has become clear that we are living in perilous times. We are surrounded by enemies who want to enslave or kill us. Many have an extremely violent and cruel past history that show what they have done, and what they would do to their enemies if given the chance. The question for Christians is what is the correct response to these threats?  Click here to download
Jesus' Last Words Before Crucifixion -  In the midst of His personal crisis in the garden, Jesus modeled patience, self-control, and adherence to the Scriptures, frequently commenting that Scriptures concerning Him had to be fulfilled. Jesus was in complete control of the circumstances, and in total submission to the will of the Father.  Click here to download
Foundational Truths of the Bible: The Names of God -  Summary: Have you ever wondered about all the different names for God used in the Bible, and what they mean? In this study we will examine some of the names and what they mean. He has revealed Himself by names such as the All Powerful Creator, Almighty, Most High, One Who Sees, Lord, Everlasting,  Self-Existent, Healer, Protector, Provider, All Sufficient One, and I AM THAT I AM.  Click here to download
The Grace of God – Summary:  Sometimes people do not understand what is meant by the "grace" of God.  Strong's concordance stated that grace (#2580) comes from a Hebrew word that means graciousness, kindness, or favor.  It originated from another Hebrew word (#2603) meaning to bend or stoop in kindness to an inferior.  This study will concentrate on examples of God's grace on individuals in Bible, the grace bestowed on Jesus, and the grace lavished on believers because of Jesus.  Dispensations,  covenants, and warnings given to believers concerning God's grace will be examined.  Click here to download
Fasting: A Way to Seek God's Attention – Summary: Fasting is a misunderstood concept.  Webster's Dictionary defines a fast as abstaining from all or certain foods, as in observing a holy day.  In the Old Testament, it was known as "afflicting one's soul."  People abstained from eating food for certain reasons.  The purpose of this study is to examine the Biblical reasons for fasting, study various examples from the Bible, and explore the discipline of fasting today.  Click here to download
Spiritual Warfare – Summary: There are many false notions of who God really is, and what is His true nature.  Some think of God as a non-personal god who exists in every living thing.  Others regard God as a type of comic Santa Claus that hands out goodies based on whether one is naughty or nice.  Still others consider God as a type of Heavenly Father, who they relate to as they do their own fathers, which can be good or bad.  Jesus pointed out that God is our Heavenly Father who is good.  Another facet of God's personality includes being a man of war.  He fought for Moses and the Israelites against the Egyptian Pharaoh at the Red Sea, and for Joshua and the Israelites against the Amorites, as well as countless other battles in their history. As the Israelites fell away from the Lord, He would chasten them with drought, famine, pestilence, and  especially with enemies who warred against them.  Click here to download
An Ever-Present Help in Times of Trouble – Summary: From Genesis we know that God created a perfect world, a garden paradise in which humans would live and rule over all of God's creation.  Food was provided; shelter and clothing were not needed; and man had no known enemies.  The Lord's only command was that they obey Him by not eating one certain fruit from a tree in Eden.  From the beginning of time, Satan has been at war with God and man.  Satan, a fallen  angel banished from heaven, used a serpent to instigate rebellion in Eden, and caused the fall of man.  Because of his hatred of God and His creation, Satan causes man trouble in life.  However, the Lord has always been faithful to help and guide His children who love and obey Him.  This study will examine some of the Covenant people of God in their generations, the eternal promises given to them by the Lord, ways the Lord helped His Covenant people and even appeared to them in times of trouble to give direction and guidance.  Click here to download